Our Company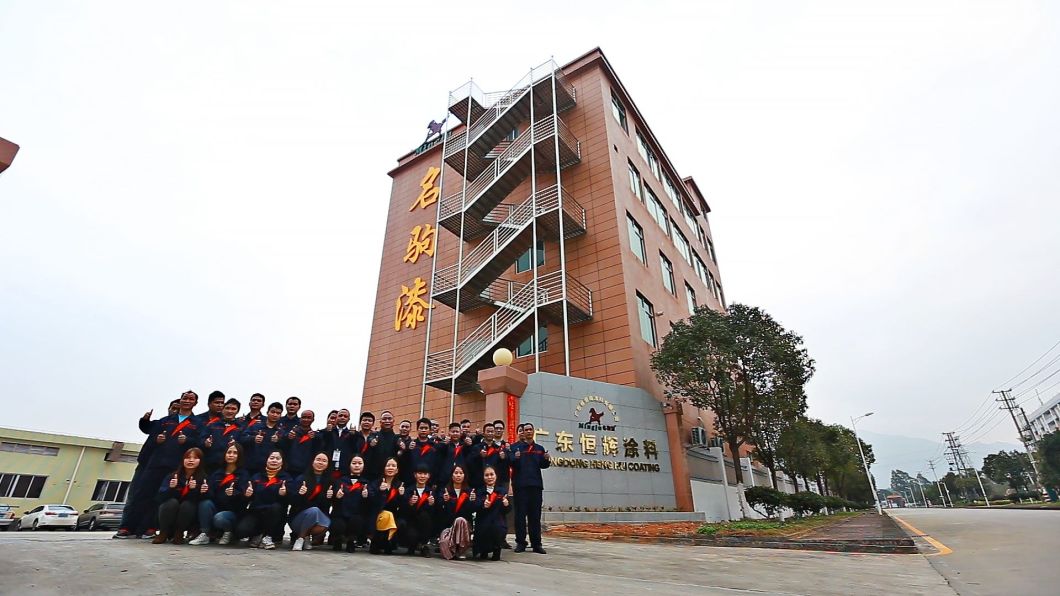 Wengyuan Henghui Chemical Coating Co.,Ltd.
Engaged in the development,production,and sales of auto paint,wood paint and polyester putty,was established in 1996.
We have attained certification of quality management system ISO9001:2000,environmental management system ISO14001:1996.SGS,3C etc.
"MJ COAT" is our brand,classic MJ COAT,Paintting the World
1k metallic color basecoat metallic blue car paint colors with high quality
Product Detail
| | |
| --- | --- |
| Color | white, blace, red, blue, yellow , gray, pearl, silver,ect |
| Certificate | ISO9001:2008,JSO14001, MSDS,TDS, 3C ect |
| OEM | Accepetable |
| Features | Good Covering Power, High Solid, Golssy |
| Dry Time | 15min, 20ºC |
| Shelf Life | 2 Years |
| Spray Coats | 2-3 Coats |
| Flash Off Time | 3-5 min between coats, 20ºC |
| Mixing Ratio | 1:1 |
| Sample | Free |
| Product Keywords | 1k metallic color basecoat |
2K TOP COAT TINTERS
Features: It is bi-component car refinish paint series, high quality single coat system. It can be cured under room temperature or through low-temperature baking.With the following advantages:fast drying,high hardness,high gloss,bright color, excellent covering power,easy spraying,etc.
1K BASE COAT TINTERS
Features: It is high quality base coat series.two coats and three coats system. Silver, pearl or solid color tinters are included. Excellent covering power,metallic effect,easy spraying.
Extra fast drying and high quality finish. Good covering power and leveling. Complete color coverage range with outstanding color accuracy.
For metallic colors, it is high solid and high coverage. Varied color cover full range with high color saturation.
1K PRIMER
Features: one component, fast dry,easy sanding,excellent filling power,and good adhesion to the top coat.
MS CLEAR COAT
Features: It is standard clear coat with medium solid especially formulated for spraying over 1K base coat to give it glossy and excellent appearance. Good thick film and excellent leveling
HARDENER
Features:
1.A series of high concentration,yellow resistant hardener.
2.Specially designed for 2K Top Coat, 2K clear coats and 2K primer.
3.Each hardener include three types of versions (Standard Hardener,Fast Hardener,Slow Hardener) for different products and application requirement.
THINNER
Features:
The thinner is divided into fast dry, standard dry and slow dry types. It is used in the 2K top coat, 1K base coat ,clear coat, 2K primer, etc. It has good dissolution and promote bonding effect.
BPO Polyester Putty(BODY FILLER)
Description:
Mainly fill and repair on the substrate such as dents, door dings, crack, needle shrinkage and weld to meet flat and smooth before spray finishing coat. Widely used in automotive repair, train manufacturing, boat building, car manufacturing, engineering machinery, machine tools and equipment manufacturing, furniture, mold, concrete building and many other repair fields.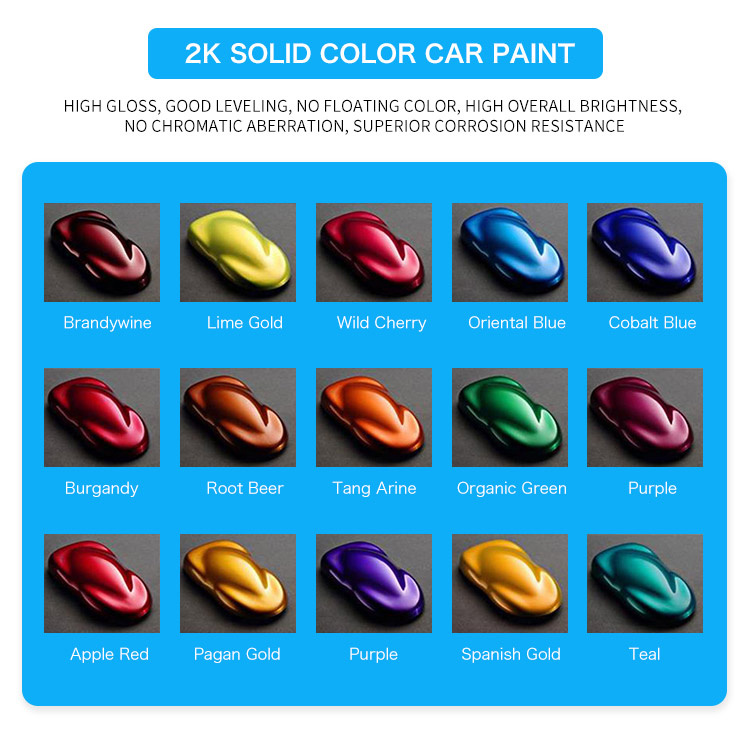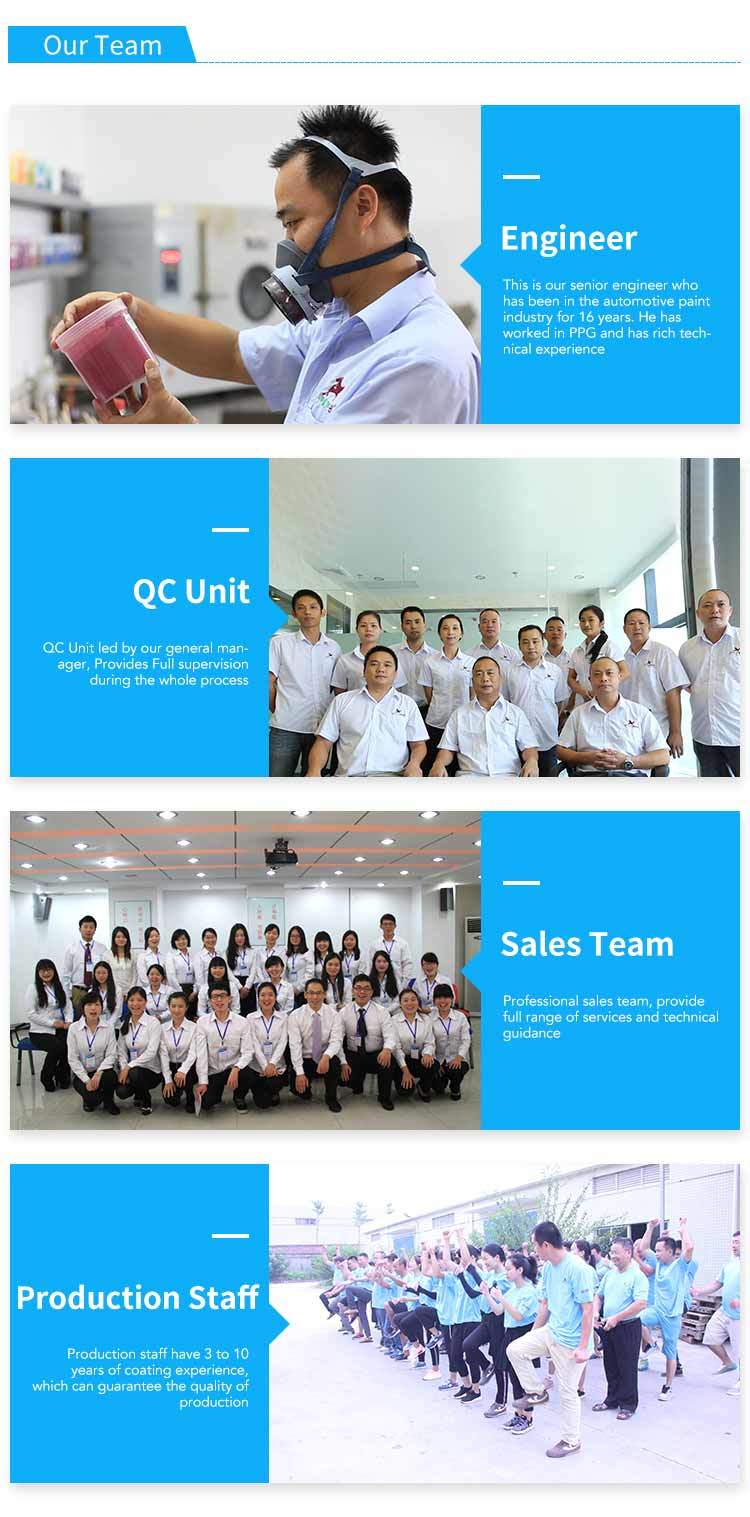 For more details.Please contact us