Manufacturer supply Butt fillers Hyaluronic Acid Dermal Filler for Buttocks Filler 20ml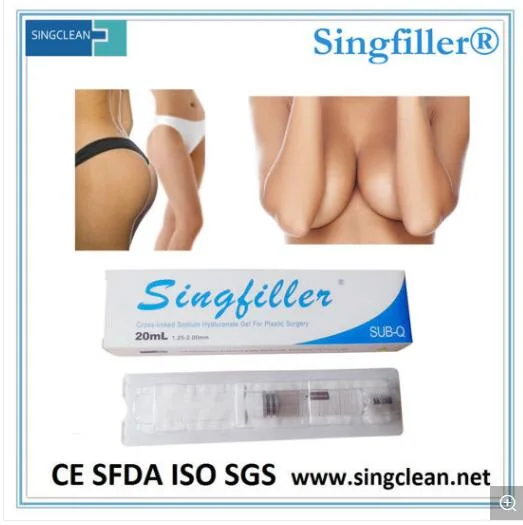 1. Product Description:
Singfiller cross-linked hyaluronic acid dermal filler is a transparent gel used for beauty injection.
Clinically,they are mainly used for facial injection in aesthetic surgery to improve skin apperance and structure,reduce wrinkles,and prevent skin aging or improve lip shape,with low toxicity,good biocompatibility,and strong anti-degradation capacity,they are gels of high-security level.

2.Overview:
Sodium hyaluronate produced by fermentation cross-links with 1,4-butanediol diglycidyl ether in alkaline condition,and then the final product is produced after a series of neutralization and dialysis.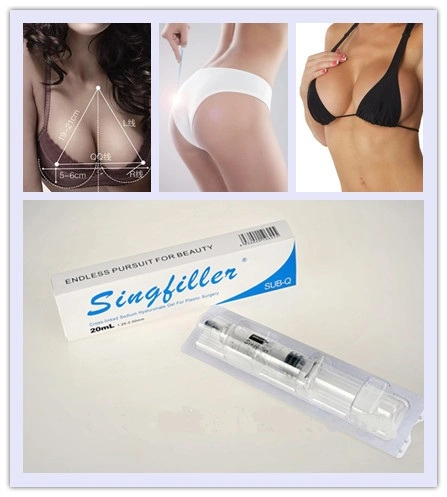 3.Product specification and recommended use.

Type
Fine
Derm
Deep
Deeper
Sub-Q
Composition
20mg/ml (HA)
Particle Size
0.10-0.15mm
0.15-0.28mm
0.28-0.50mm
0.50-1.0mm
1.25-2.0mm
Where to inject
Upper part of Dermis
Middle part of Dermis
Deep layer of dermis
Deep dermis or subcutaneous tissue shallow
Deep dermis or subcutaneous tissue shallow
Volume of Syringe
1ML/2ML
1ML/2ML
1ML/2ML
1ML/2ML
1ML/2ML, 10ML, 100ML, 200ML
Storage
2 ° up to 30 °C (35.6 °F --86°F)
Duration
6-12months
6-12months
6-12months
9-12months
9-12months

Singfiller Fine(1#): For facial thin,superficial lines,etc.
Singfiller Derm:(2#):For moderate wrinkle;facial shaping,lip enhancement,etc.
Singfiller Derm Deep(3#): For deep wrinkle and folds;cheek.nasolabial folds,etc.
Singfiller Derm Deeper(4#): For large deep wrinkles and folds,etc
Singfiller Sub-Q(5#): For breast enhancement,buttocks enhancement,soft tissue filler,etc.

5.Why chose Singfiller dermal filler?
1.We are manufacture specilized for this product for years, so we can ensure the stable quality.
2. Our quality is approved by customers with good clinical effect.
3.Our price is competitive compared with other brands.
4.We accept OEM orders,can produce according to your requirements.