cosmetic sterile hyaluronic acid gel factory directly sale 1ml 2ml hyaluronic acid injection price to buy
Product overview
What are Feelderma HA dermal fillers?
Feelderma HA injectable Dermal fillers help to diminish facial lines and restore volume and fullness in the face.
As we age, our faces naturally lose subcutaneous fat. The facial muscles are then working closer to the skin surface, so smile lines and crow's feet become more apparent.
The facial skin also stretches a bit, adding to this loss of facial volume. Other factors that affect the facial skin include sun exposure, heredity and lifestyle.

Feelderma Hyaluronic acid Dermal fillers can be very helpful in those with early signs of aging, or as a value-added part of facial rejuvenation surgery.
Advantages
Advantage 1: High Quality

☆Immediate and long-lasting effects
☆BDDE cross linked technology
☆Easy to inject, Non-surgical within 30 minutes procedure

Advantage 2: Safety and Effective

☆Non allergenic ,no need of allergy testing previously to the treatment
☆Limited risk of side effects or inflammation

Advantage 3: Comfort

☆Orginal BD glass syringe,BD needles
☆Stability and full control during the whole treatment

Advantage 4: Affordable Price

☆Produced in our own factory ensures lower price and high quality
☆Small quantity is also acceptable
Details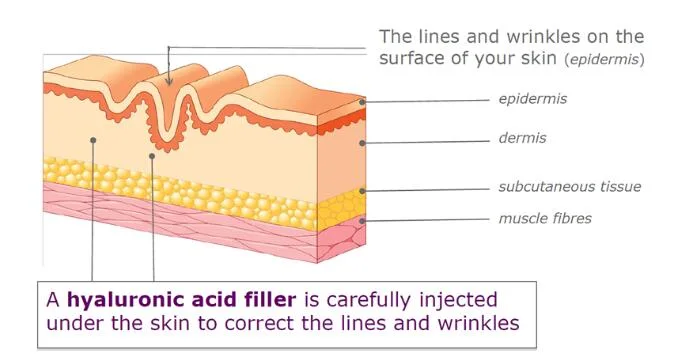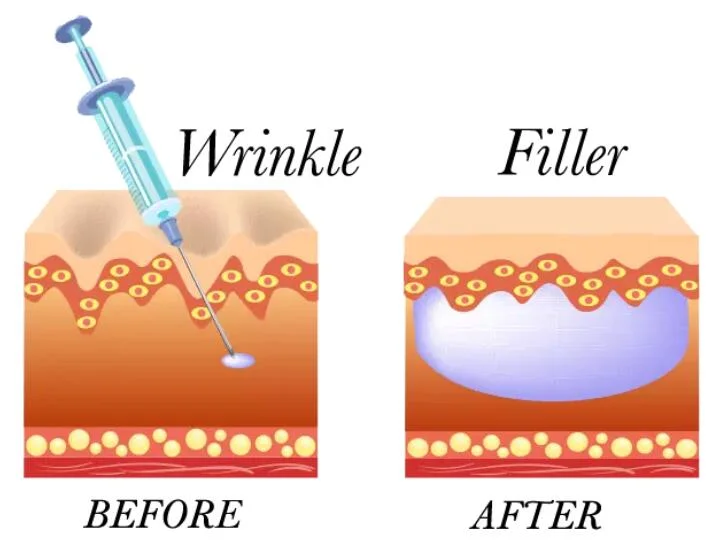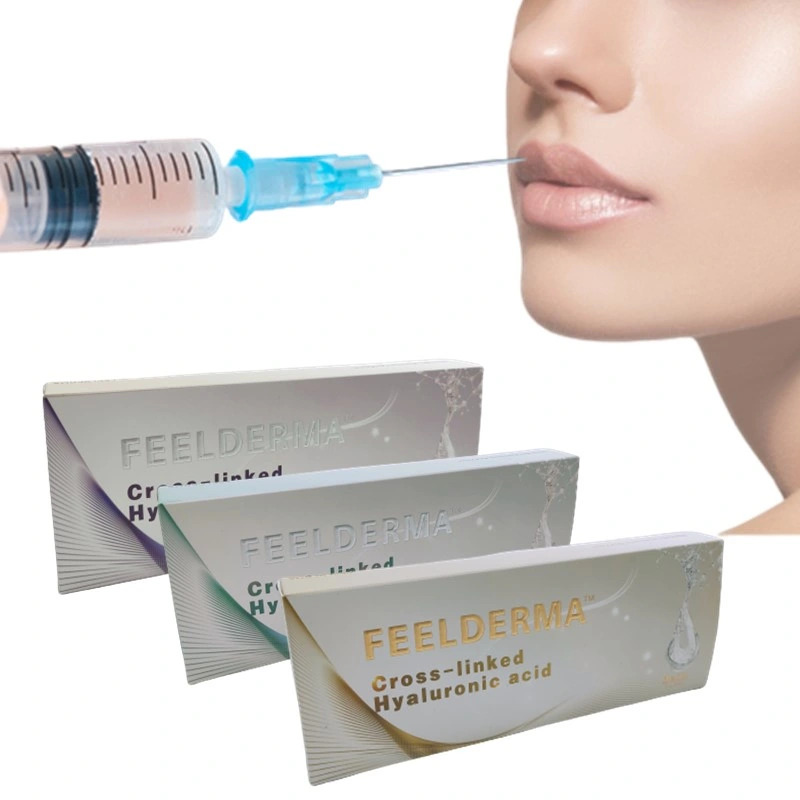 FINELINES 1ML/2ML.
Ingredient: BDDE Cross-linked hyaluronic acid gel
HA concentration: 24mg/ml
Particle size: 0.1-0.15mm
Duration: 9-12 months
Function: Fill wrinkles around eyes, static wrinkles, light wrinkles of face. This products can also be used for lip fullness
DERM 1ML/2ML.
Ingredient: BDDE Cross-linked hyaluronic acid gel

HA concentration: 24mg/ml
Particle size: 0.15-0.28mm
Duration: 9-12 months
Function: Lips argumentation, anti brow wrinkles, lift dripping lips, fill sagging lips cheeks, and fill earlobes, etc.
DEEP 1ML/2ML
Ingredient: BDDE Cross-linked hyaluronic acid gel
HA concentration: 24mg/ml
Particle size: 0.28-0.0.5mm
Duration: 9-12 months
Function: Anti deep wrinkles, shaping face contour, chin and nose fullness, nasolabial fullness
SUBSKIN 10ML/20ML
Ingredient: BDDE Cross-linked hyaluronic acid gel
HA concentration: 24mg/ml
Particle size: 0.28-0.5mm
Duration: 9-12 months
Function: Buttock enhancement, buttock enlargement, body contour and shaping
Before&After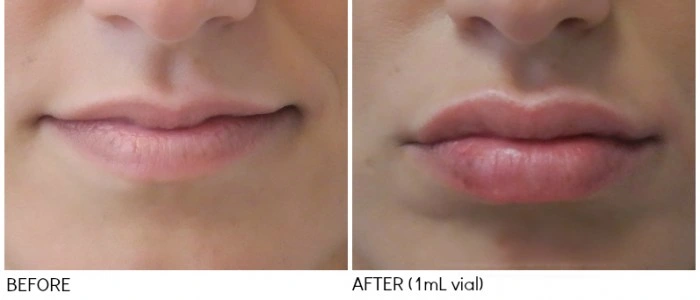 Workshop
Feelderma is a leading innovator of advanced aesthetic medical technologies for 12 years. Our technology enables physicians to provide excellent solutions for a broad range of medical aesthetic applications including face and, resurfacing skin, eliminating fine lines or wrinkles treating.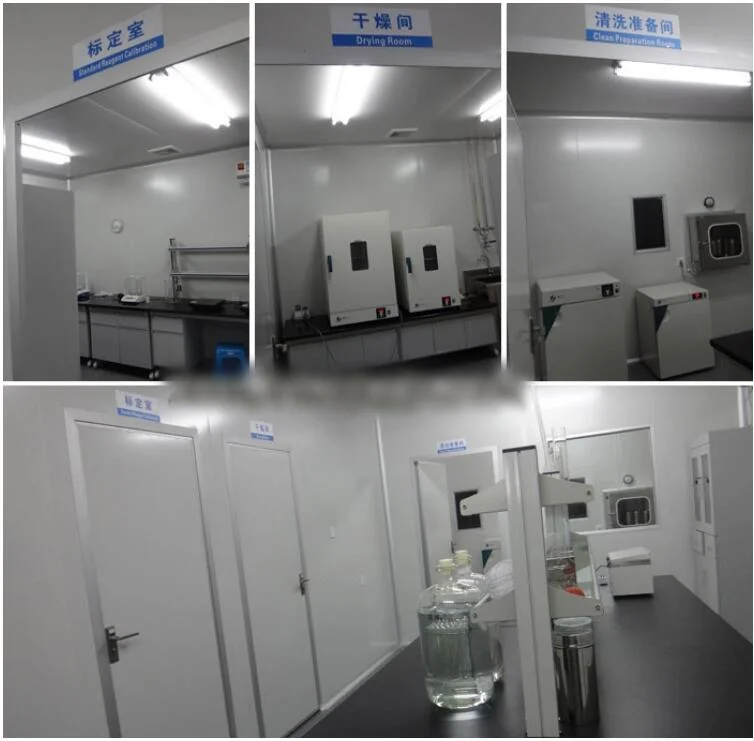 Packaging and Shipping

Packaging Details:

1. One BD syringe with two sterile BD needles inside one blister.
1. Exported carton package, each in bullbe bag with carton dividers
2. Inside and outside the carton have shock bag protection to reduce vibration
3. Special package is available refering to your requirements. Delivery Time:2-4 days after payment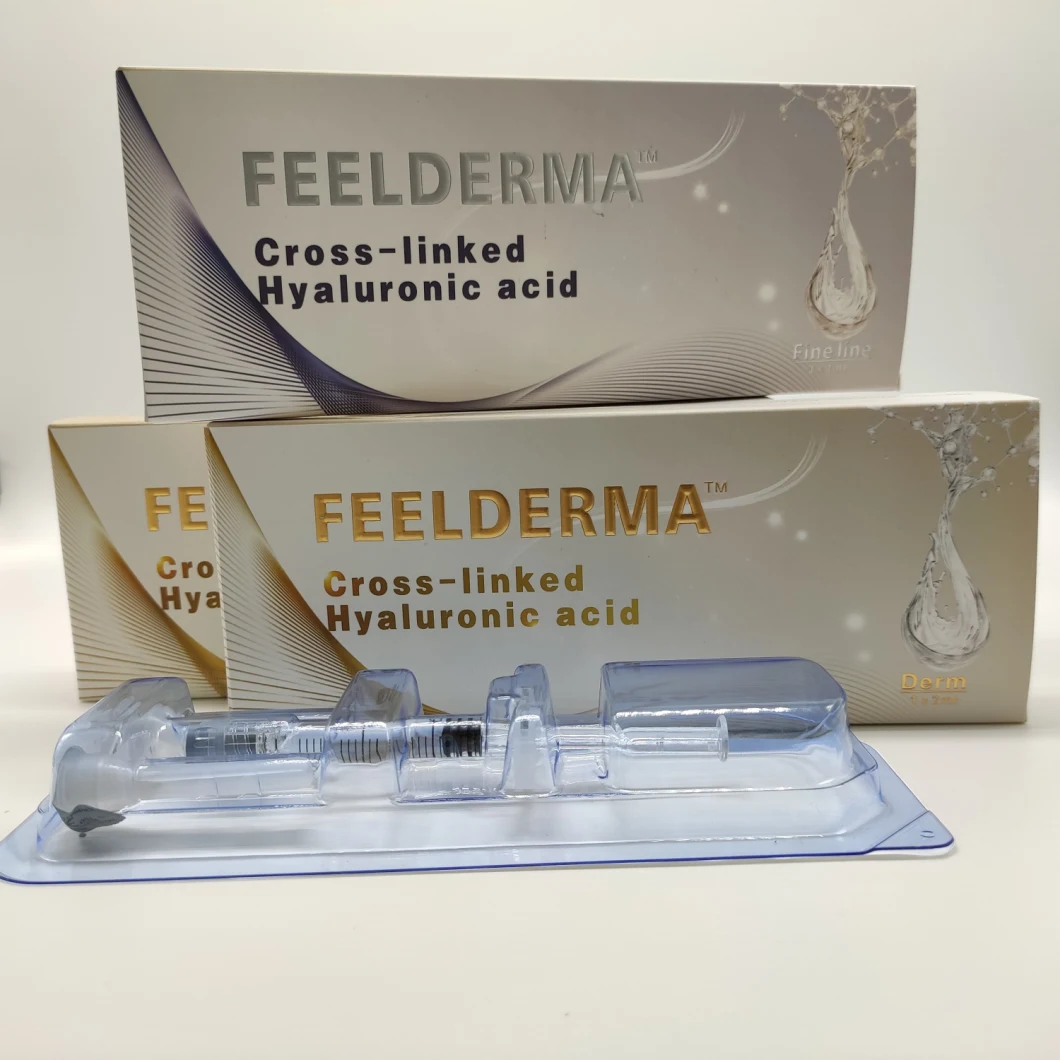 FAQ
1, What is hyaluronic acid?
Hyaluronic acid is a sugar molecule that is found naturally in the human body. The main function of hyaluronic acid in the skin is to keep it moist, provide volume and assist in the formation of new tissue.

2, "Non-cross" vs."cross-linked" hyaluronic acid
"Non-cross-linked" hyaluronic acid in its natural form is in a liquid state. It is indicated for the treatment of fine wrinkles or for revitalization and rejuvenation the skin. "Cross-linking" is the process through which hyaluronic acid is made into a gel that can be injected into the skin for long-lasting results .

3, What are the benefits of Feelderma Dermal filler?
Feelderma Dermal Filler are an injectable form of naturally occurring, based on biodegradable, nonanimal hyaluronic acid and are biosynthtically produced. There is no need for allergy testing before injection.

Feelderma Dermal Filler injections provide an easy way to reduce the appearance of facial wrinkles, stimulate the collagen synthesis and smooth the skin for a naturel youthfull look and immediate visible effect.

4, What kind of wrinkles can be treated with Feelderma Dermal filler?
Feelderma dermal filler is a highly versatile product that provides optimal aeshetic results and can be used for maximum correction in many different areas of the face such as nasolabial folds (smile lines),vertical lip lines, marionette lines (lip corners) and crow's-feet. Basically all skin areas in face and neck, and on hands and decollete, can be treated with Feelderma.

5, How are Feelderma Dermal Filler products injected?
The procedure is simple and takes no longer than 30 minutes.Depending on the area to be treated, a small local anaesthesia could be performed to increase your comfort. Feelderma fillers are injected into the skin using a very fine special needle.The correction can be seen immediately.

6, Are there any possible side effects?
The results are instantly visible. After the treatment with Feelderma, related reactions may occur,such as some mild swelling and redness. These are usually resolved spontaneously after a few hours. Most patients can resume their normal activities immediately after the treatment. It usually takes 1-2 days for the skin to return to being smooth.

7, How long do the Feelderma products last?
The effects of the treatment with Feelderma are long lasting but not permanent. Individual results will depend on a variety of factors, e.g. Location of application, and the patient's age, skin type, skin conditions, metabolism and lifestyle. In most cases the effect lasts for 9 - 24 months.

8, How should I behave after the treatment?
Do not expose your treated area for 3-4 days to intense heat or cold. During this time, avoid alcohol, sauna sessions and sunbathing. Do not massage the treated area.