Hyaluronic Acid Dermal Fillers is biodegradable gel made of no-animal cross-linked hyaluronic acid, substance that mimics the body's natural depleted hyaluronic acid. They offer a complete solution for treating facial line wrinkles, and lips. It also can be used in facial sculpting by enhancing natural facial contours and features.

New hyaluronic acid products are now available for the correction of wrinkles.

They can easily be injected into the skin, are very stable, and ensure a long-lasting cosmetic result. They are a facial enhancement and rejuvenation treatment for those who wish to smooth wrinkles, fill in furrows around the mouth, or add volume to the cheeks, lips, and around the eyes. This new type of hyaluronic acid spreads evenly through the skin, creating a smooth transition between treated and non-treated areas. Once injected the fillers provide support and structure to the skin, giving a plumped and youthful appearance.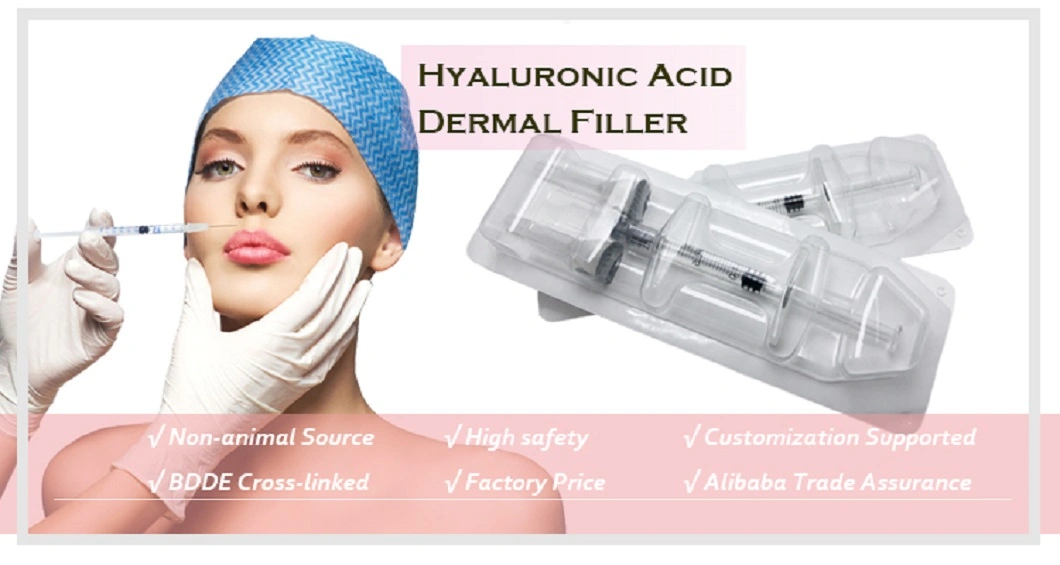 Features
Non-animal source hyaluronic acid
BDDE cross-linked technology ensure uniformity of gel particle
High safety & Rare side-effects
Prompt effectiveness & Natural result
Short recovery period & long duration
There are 5 types of hyaluronic acid dermal filler can be choosen
1. Super Fine Line
2. Super Derm Line
3. Super Deep Line
4. Super Ultra Deep Line
5. Super Subskin
They 5 products make it possible to quickly and effectively meet the vast majority of patient's needs for correction and augmentation of wrinkle and folds.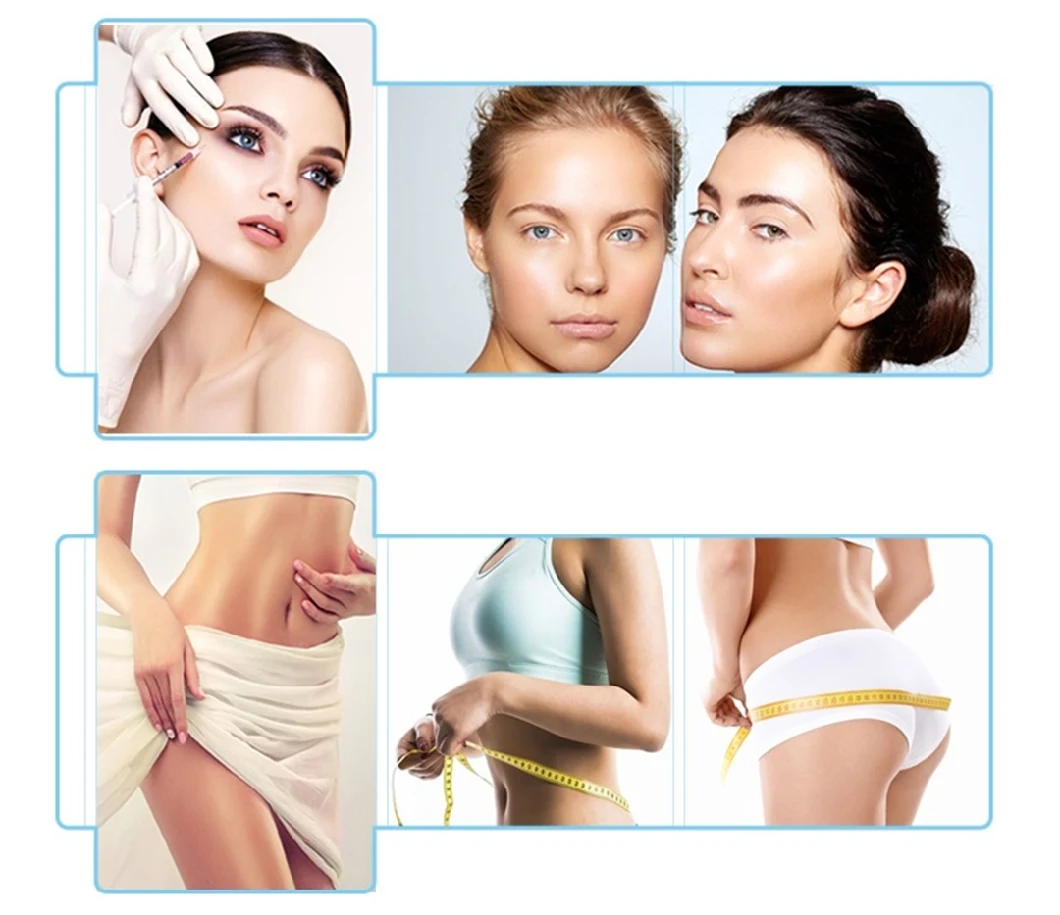 Type
Super Fine(L)
Super Derm(L)
Super Deep(L)
Super Ultra
Deep(L)
Concentration
24mg/ml stabilized hyaluronic acid
24mg/ml stabilized hyaluronic acid
24mg/ml stabilized hyaluronic acid
24mg/ml stabilized hyaluronic acid
Approximate number of gel particles ml
150,000
100,000
10,000
5,000
Particle size (mm)
0.10 - 0.15
0.15 - 0.28
0.28 - 0.5
0.5 - 1.25
Recommended indications
Thin superficial lines (crow's feet,wrinkles on one's forehead)
Moderate wrinkles
(lip filling and moderate lines around the lip,like cheilogramma)
Facial deep wrinkles and folds ( the lines around nose,like nasolabial folds)
Deeper wrinkles and folds,also can be used in body part ( breast & buttock enhancement )
Recommended degree of correction
100% No overcorrection
100% No overcorrection
100% No overcorrection
100% No overcorrection
Volume of syringe
1ml/2ml/10ml
1ml/2ml/10ml
1ml/2ml/10ml
1ml/2ml/10ml
Needle size
30g*2
27g*2
27g*2
23g*2
Duration
8-16 months
8-16 months
8-16 months
10-18 months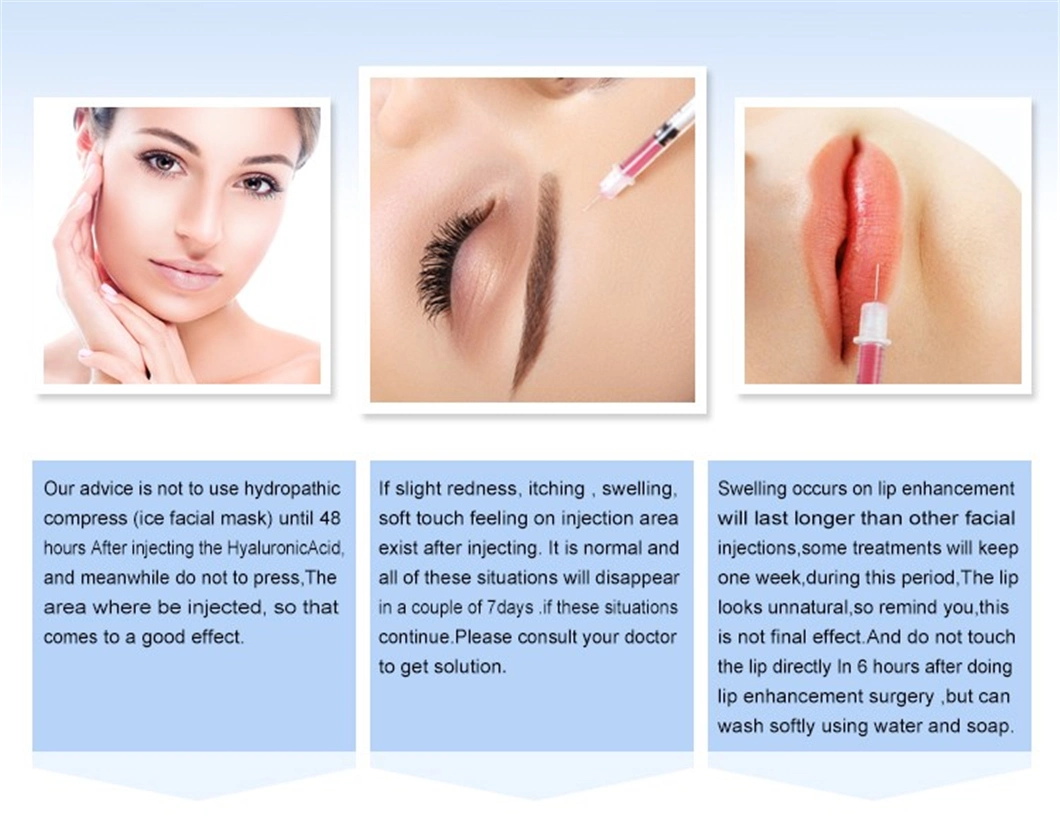 Safety first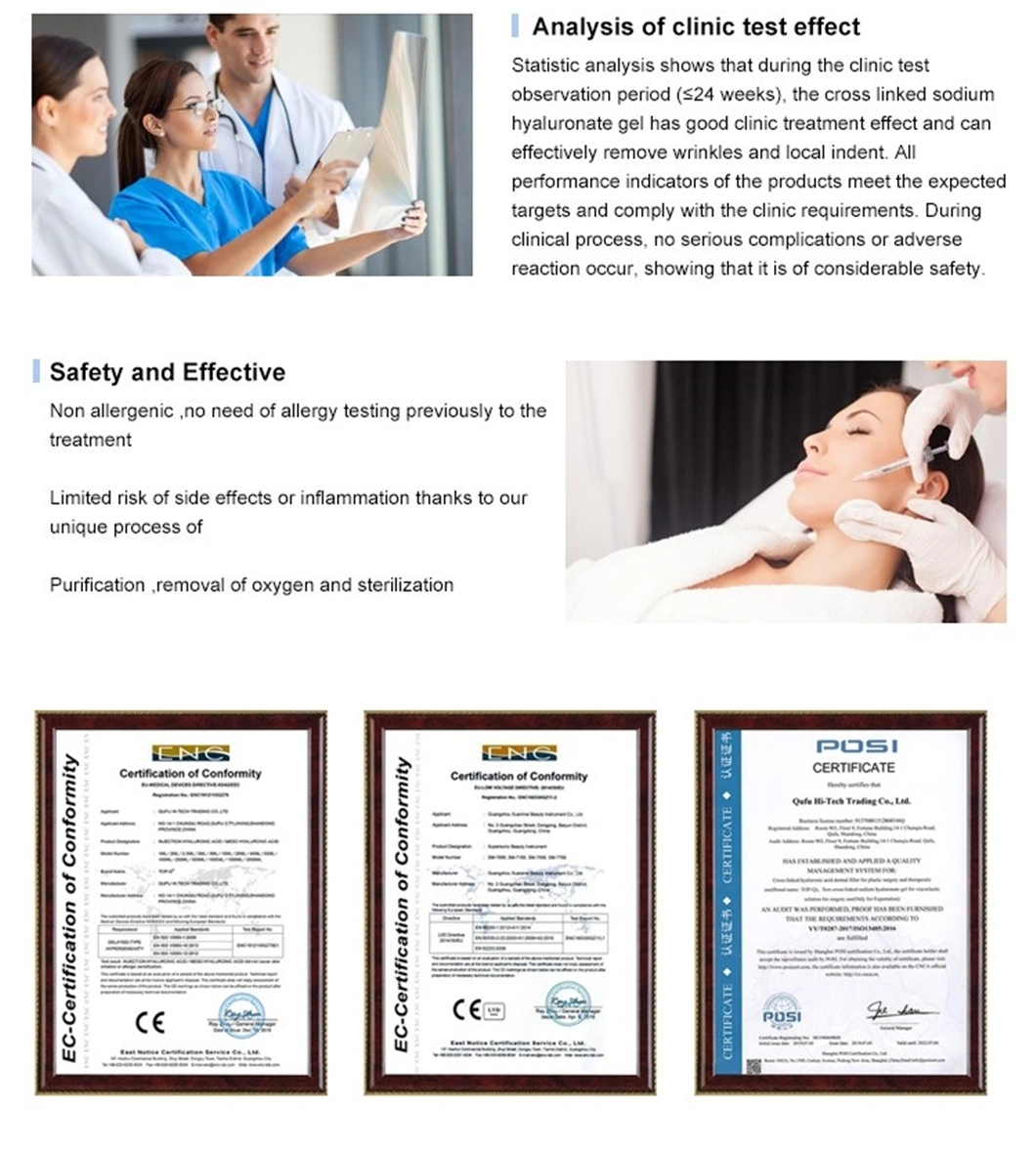 One pre-filled BD syringe and two BD needles in a PVC blister.One blister and instruction in a retail box.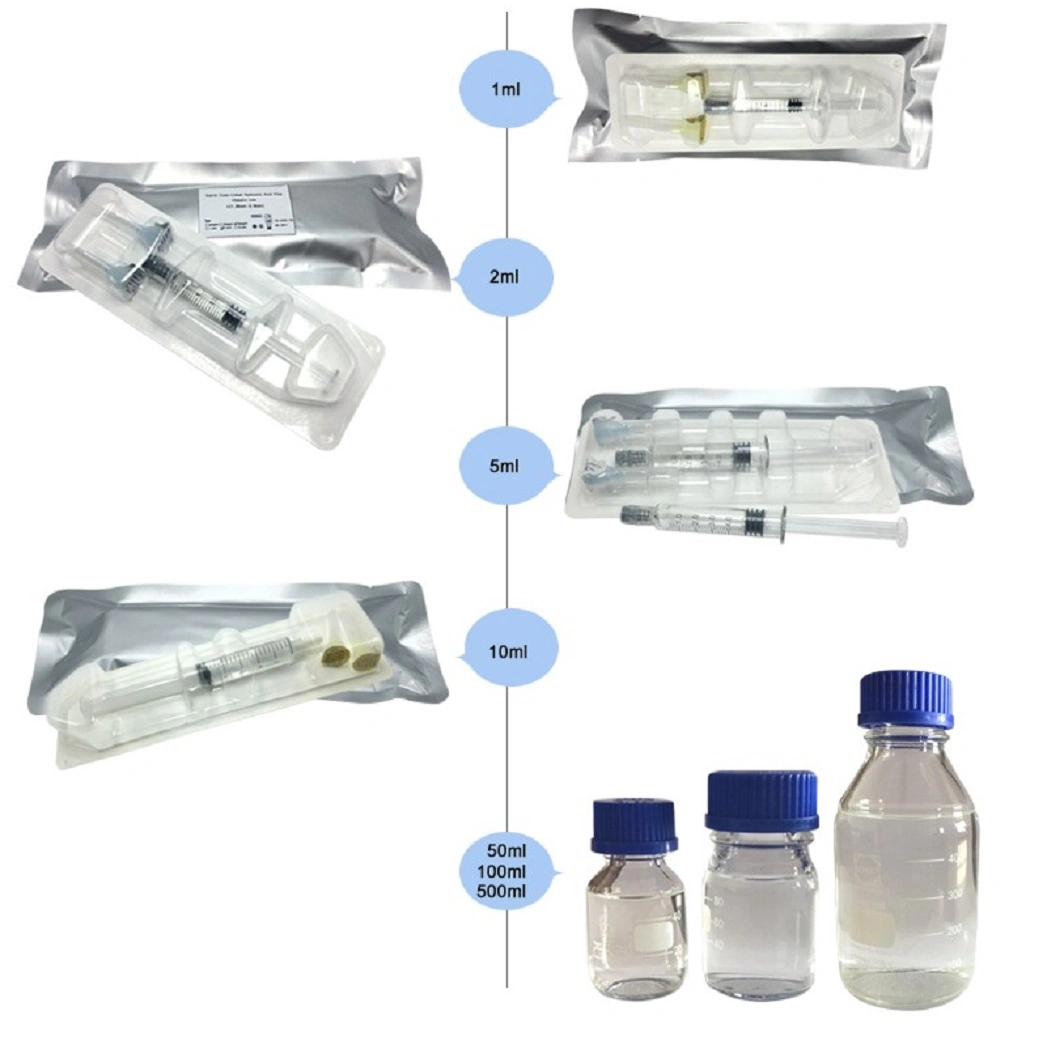 Why Choose Us ?
Highly Quality
• Immediate and long-lasting effects.
• BDDE cross-linked technology ensure uniformity of gel particle .
• High viscosity for a great filling capacity and optimized elasticity for modeling and a natural,beauty look.
• Easy to inject .Non-surgical within 30 minutes procedure.

Safety and Effective
• Non allergenic ,no need of allergy testing previously to the treatment.
• Limited risk of side effects or inflammation thanks to our unique process of.
• Purification ,removal of oxygen and sterilization.

Comfort
• Orginal BD glass syringe ,2*BD needles.
• Special shape of plunger rod.quality.
• Small quantity is also acceptable.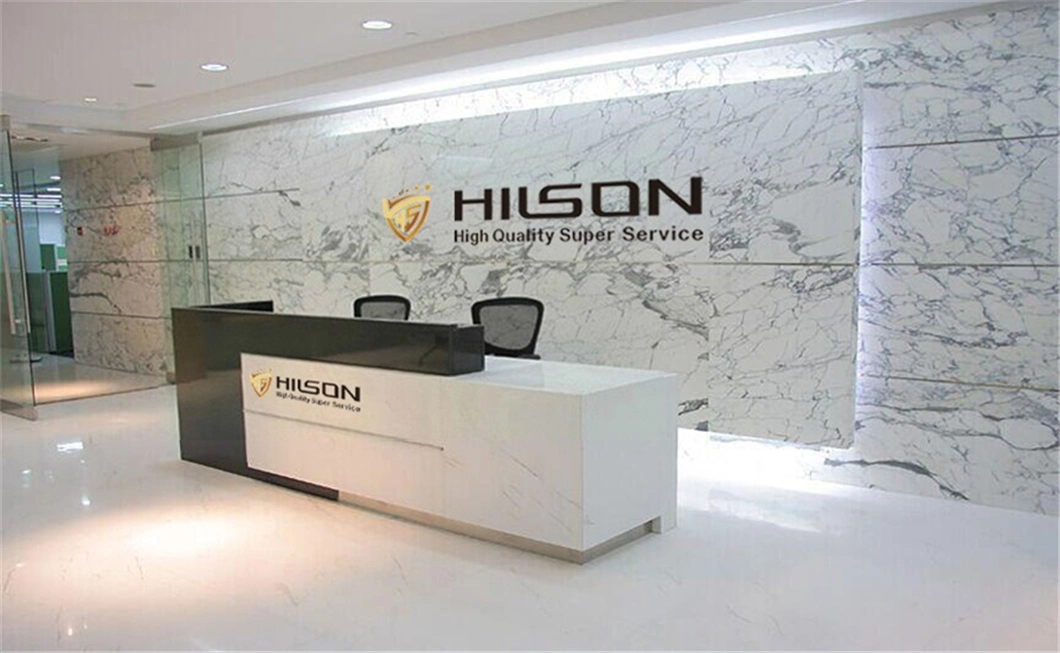 Hilson specialized in the aesthetic medical area and has been focus on development, manufacturing and exporting of hyaluronic acid filler and hyaluronic acid related products. Our factory located at Qufu--Hometown of Confucius.

Hilson main products include Injectable dermal filler, Mesotherapy Serum, Hyaluronic acid intra-articular & Ophthalmology injection, Hyaluron Pen, PDO thread lift, Blunt cannula, and other beauty equipment. Besides, we also provide OEM/ODM as customer demand.

Hilson has been certified by ISO13485 Quality Management System, and has passed CE certificate for hyaluronic acid filler.

Our workshop has up to GMP production standard, the annual production capability is 60ton of Sodium hyaluronate, 3million pieces of dermal filler.

Hilson has it′s own brand -Charmost. We currently supply over 75 countries and regions, such as North America, SouthAmerica, Europe, Middle East, Southeast Asia. Hilson products had been highly recognized and trusted by customers.

In addition, Hilson attaches great importance to its own development, we are constantly to improve product quality, introduced advanced technology and equipment, we regularly provide complete product training with our staff, aims to share better products and excellent services with all our customers.

With the faith of "reasonable price, efficient production time and sincerely after-sales service", we hope to cooperate with more customers for mutual development and benefits.

Welcome to visit our company or any inquiry, welcome to contact us, we are willing to share more with you!