Hyaluronic acid filler injectable ha dermal filler face anti aging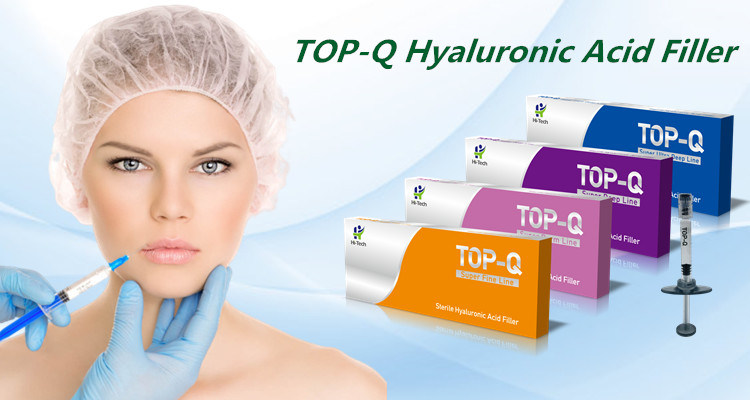 What is Hyaluronic Acid (HA)?
Hyaluronic acid (HA) is a type of polysaccharide called as glycosaminoglycan, which is also known as hyaluronan or hyaluronate. Hyaluronic acid (HA) exists naturally in the human body and plays a very important role of regulating cell growth and renewal. High concentrations are found in soft connective tissues and in the fluid surrounding your eyes. It's also in some cartilage and joint fluids, as well as skin tissue. Hyaluronic acid (HA) Injection is extracted and reformulated and now has become one of the most popular kinds of injectable fillers, which is also praised as "the key to the fountain of youth" by media.
We can conclude Hyaluronic acid (HA)'s function as belows:
*Very Important in human's body;
*Keep your skin always highly moist;
*Stimulate to replace the aged cells by enhancing growth of new celss; *Stimulate to generate collagen and other substance which are essential for maintaining healthy tissue;
*Support collagen and elastin to maintain healthy skin;
*Work as lubricant and absorb impacts in order to keep your skin viscoelastic.
Products Description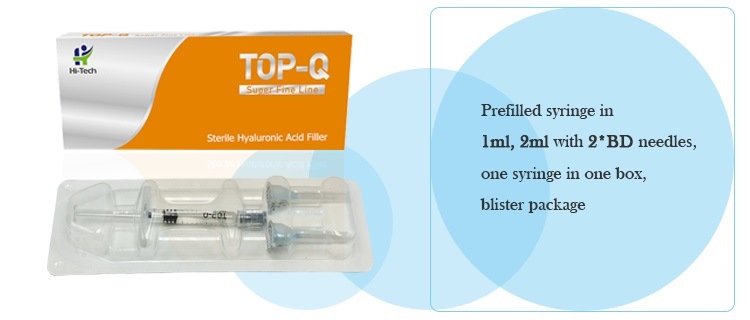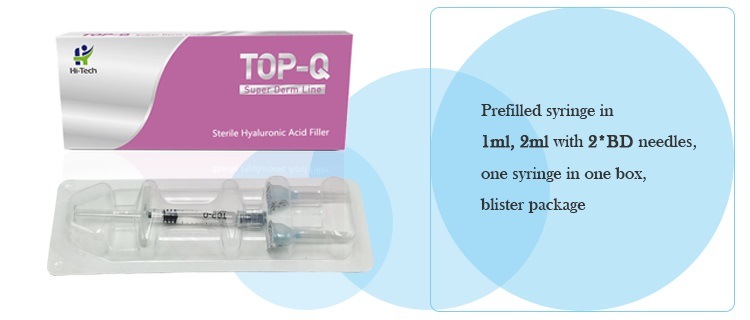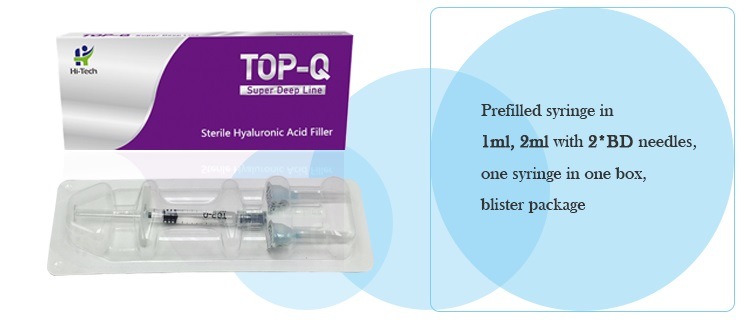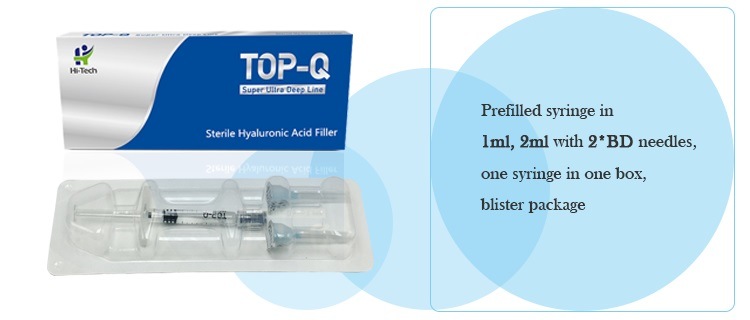 Top-Q dermal filler
Super Fine(L)
Super Derm(L)
Super Deep(L)
Sub-skin (L)
Content
24mg/ml
stablized hyaluronic acid
24mg/ml
stablized hyaluronic acid
24mg/ml
stablized hyaluronic acid
24mg/ml
stablized hyaluronic acid
Approximate number of gel particles ml
150,000
100,000
10,000
5,000
Particle size (mm)
0.10 - 0.15
0.15 - 0.28
0.28 - 0.5
0.5 - 1.25
Application
Thin superficial lines, such as worry lines, periobital lines, perioral lines
Moderatewrinkles
(lip filling and moderate lines around the lip,like cheilogramma)
Facial deep wrinkles and folds ( the lines around nose,like nasolabial folds)
Deeper wrinkles and folds,also can be used in body part ( breast & buttock enhancement )
Recommended degree of correction
100% No overcorrection
100% No overcorrection
100% No overcorrection
100% No overcorrection
Volume of syringe
1ml/2ml/10ml
1ml/2ml/10ml
1ml/2ml/10ml
1ml/2ml/10ml
Needle size
30g*2
27g*2
27g*2
23g*2
Duration
8-16 months
8-16 months
8-16 months
8-16 months


Application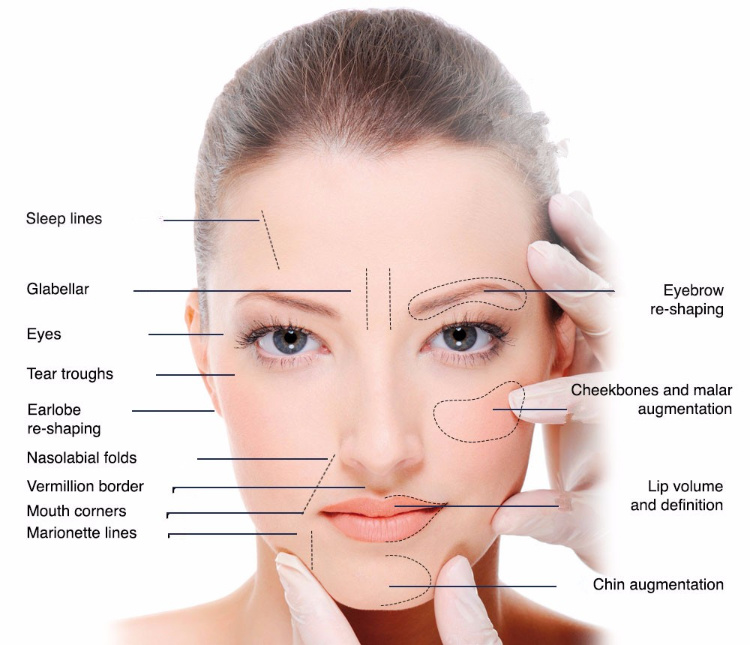 Top-Q®

hyaluronic acid is well-known for delivering great rejuvenating results, Hyaluronic dermal fillers are most often injected into:
1.Perioral(mouth) wrinkles
2.Cheek wrinkles
3.Lips (upper & lower lip contouring and augmentation) 4.Cheekbones
5.Dark circles under the eyes
6.Eyes, glabella(forehead) wrinkles
7.Neck wrinkles
8.Jawline
9.Acne scars
10.Marionette lines
11.breast /buttock
Before and After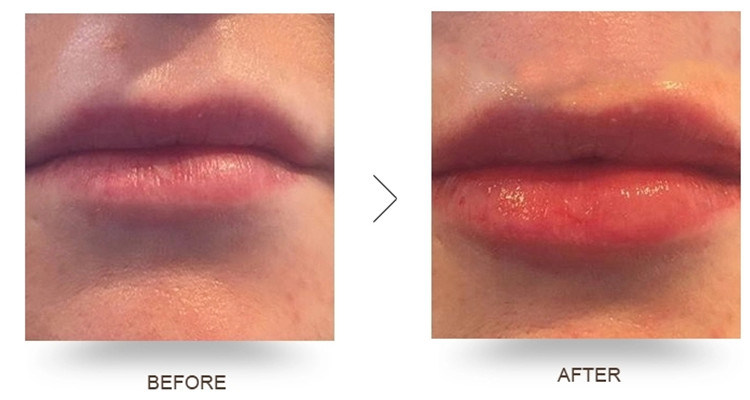 HOW YOU SHOULD TAKE CARE OF YOUR SKIN AFTER THE TREATMENT
*Avoid strenuous exercise for one day
*Avoid excessive sun exposure
*Avoid using alcohol
*Use cold compresses to cope with swelling or bruising if any
*Avoid any laser treatments for recommended period of time
why choose us
*Alibaba SGS Verifed Supplier
* CE ,ISO GMP factory
*Small Trial Order Welcomed
*Support Customerization
*Reasonable Price, Effcient Production Time and Sincerely after-sales service
*24*7 customer service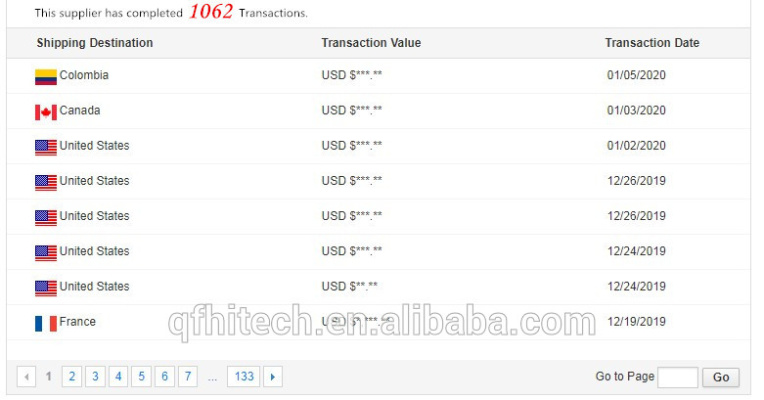 Packaging & Shipping
Packaging: One pre-filled BD syringe and two BD needles in a PVC blister with a retail box package Shelf Life: 2 years in Room Temperature
Payment terms: Trade Assurance pay on Alibaba, T/T, Western Union, Money Gram, paypal, etc Delivery Time: 4-7 working days to worldwide
Return Policy: We will return your money if our products have no good effect.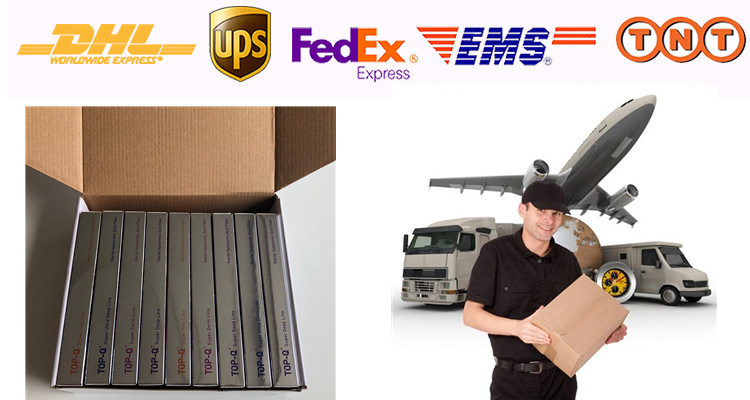 Company Information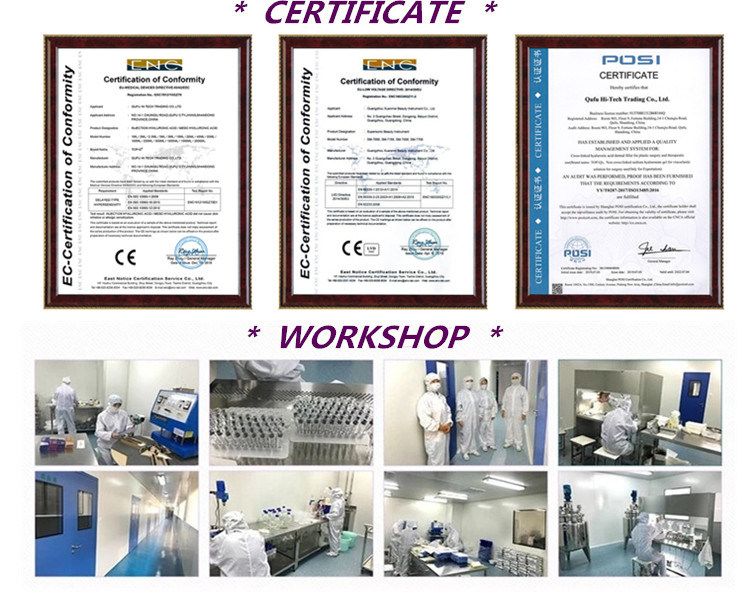 Shan Dong Hilson Biotechnology CO.,LTD specialized in the aesthetic medical area and has been focus on development, manufacturing and exporting of hyaluronic acid filler and hyaluronic acid related products. Our factory located at Qufu--Hometown of Confucius.

Hilson main products include Injectable dermal filler, Mesotherapy Serum, Hyaluronic acid intra-articular & Ophthalmology injection, Hyaluron Pen, PDO thread lift, Blunt cannula, and other beauty equipment. Besides, we also provide OEM/ODM as customer demand.

Hilson has been certified by ISO13485 Quality Management System, and has passed CE certificate for hyaluronic acid filler.

Our workshop has up to GMP production standard, the annual production capability is 60ton of Sodium hyaluronate, 3million pieces of dermal filler.

Hilson has it′s own brand -Charmost. We currently supply over 75 countries and regions, such as North America, SouthAmerica, Europe, Middle East, Southeast Asia. Hilson products had been highly recognized and trusted by customers.

In addition, Hilson attaches great importance to its own development, we are constantly to improve product quality, introduced advanced technology and equipment, we regularly provide complete product training with our staff, aims to share better products and excellent services with all our customers.

With the faith of "reasonable price, efficient production time and sincerely after-sales service", we hope to cooperate with more customers for mutual development and benefits.

Welcome to visit our company or any inquiry, welcome to contact us, we are willing to share more with you!